Wednesday, June 01, 2005
Apart from being a one stop furniture center, IKEA plays a roll in introducing and promoting Swedish culture to the world. In every IKEA outlet world wide, there would be an inhouse Swedish restaurant serving various Swedish dishes. Every weekend, the restaurant offers a 3 course menu for a very reasonable price.
Their experties the swedish meatball (Köttbullar Swedish meatballs, served with lingonberries. And choice of chips or boiled potatoes.) valued at the price fo $5.95 per dish.
Then there is breakfast menu which would be the 'Cooked breakfast' With eggs, bacon, sausages and tomato, plus tea or coffee, Breakfast is served daily from 9.30 until 10.30 am.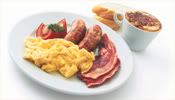 There's also dessert; a coffee and a muffin.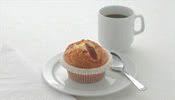 Swedish Market are only available in selected outlet.IKEA Richmond has it's very own Swedish Food Market, where customers can purchase delicious Swedish delicasies from biscuits to Herring. There are just a few of the Swedish delicasies that we offer at IKEA Richmond's Sweden Shop.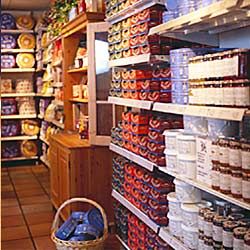 Posted by confused-born-indonesian at 10:19 PM
Monday, May 30, 2005
Giant brand name can't avoid from being exploited by some, especially through advertisement. Their decent advertisement had been modified to provoking, controversial and in most of the case includes nudity and four letter words. In this case, IKEA is no exceptional.
Below are a few example of misleading advertisement:-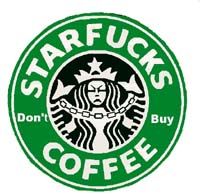 Starrbucks
Coca-cola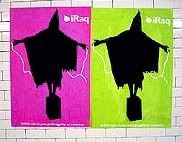 Apple
IKEA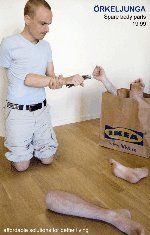 IKEA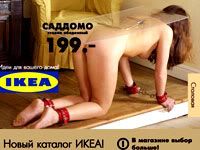 IKEA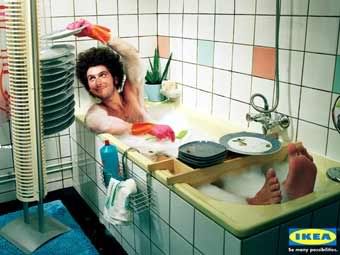 IKEA
Posted by confused-born-indonesian at 8:04 PM
Saturday, May 28, 2005
Top ten world's most influential brand
by a poll of branding professionals
1. Apple
2. Google
3.
IKEA
4. Starbucks
5. Al-Jazeera
6. Mini
7. Coca-Cola
8. Virgin
9. eBay
10. Nokia
Posted by confused-born-indonesian at 3:15 PM
Tuesday, May 24, 2005
Three Killed in Rush for IKEA Vouchers
Taken From www.arabnews.com/?page=1&section=0&article=50867&d=2&m=9&y=2004
JEDDAH (Reuters) - Three men were trampled to death in a rush to claim vouchers at the first IKEA furniture showroom in Saudi Arabia Wednesday, hospital officials said.
Sixteen shoppers were injured at the Sweden-based furniture store's showroom in Jeddah. Medics revived some 20 customers who had fainted in the crush.
The stampede was triggered by an offer for the first 50 shoppers to received $150 vouchers. An official at IKEA's Saudi agent said more than 70,000 people showed up at Jeddah.
Hospital officials said two dead were a Pakistani and a Saudi national.
IKEA is known for simple, reasonably priced products.
Posted by confused-born-indonesian at 2:05 AM
Riot @ London IKEA grand Opening.
The store in Edmonton, north London, stayed open for only 30 minutes due to safety fears and five people had to be taken to be taken to hospital for treatment. According to the company, the chaos was caused by " an unforeseen volume of customers". The police spokeperson told the BBC news that "IKEA should have known by offering cheap prices in a deprived area would cause a rush.By leafleting the area about knocking down bargains for those who arrived first, people flock to the store in large numbers. IKEA did not put in place the right infrastructure to deal with the incident. He also mention that the store should not be open until health and safety standard had been checked. IKEA spokeperson official statement contradict the statement above by saying that the company had worked closely with the emergency services . They in other statement, they told BBC news that they would not be reopening until safety issues been considered and damaged doors had been repaired
Articals taken from the internet:
'Lack of security'
http://news.bbc.co.uk/2/hi/business
Bargain-hunters even abandoned their cars on the A406 north circular causing severe traffic problems, police said.
Advertising announcing cut price offers over 24 hours attracted between 4,000 and 6,000 people to the store, according to the London Ambulance Service.
Eye-witness Patrick Passley told BBC News there was a lack of security and trouble flared when queue-jumpers got into the store past some customers who had been waiting outside since about 1800 GMT.
"It was all very chaotic and extremely distressing" said witness
He said: "They (Ikea staff) quickly closed the doors after a lot of people got in by jumping the queue.
"People became agitated and eventually they started trying to charge the doors."
Patricia Ming said when the doors opened one woman "pushed her way forward screaming with excitement" then the crowd rushed in through the doors.
"The doors remained opened for at least 15 minutes while crowds barged through the doors and the security guards just stood out the way as otherwise they would have been trampled," she said.
'Surge of people'
Ian Burlinson, of north London, said he was thrown to the ground as people surged forward and had to be rescued by a passer-by.
He said: "It was all very chaotic and extremely distressing."
Met Police Commissioner Sir Ian Blair said his officers had been taken aback by the number of people who attended the opening.
"It was something that the Metropolitan Police were as taken by surprise (by) as the Ikea management," he said.
"When we have any future (store) openings we will talk to them about it."
Founded in Sweden in 1943, the company has proved a hit with British homeowners since opening its first UK store in 1987.
Posted by confused-born-indonesian at 1:25 AM
Monday, May 23, 2005
Swedish TV news reported, Ingvar Kamprad has overtaken Microsoft Bill gate as the world's richest man. KAMPRAD 77, has 400 billion crown or $ 53 billion compared to Bill gate. Bill Gate's is put at $47 billion according to the latest list of the world's richest in U.S "Forbes Magazine". Kamprad the down to earth billionaire, is know for his fugal habits such as flying economy class, lives in Switzerland, no longer takes part in teh daily running of IKEA but has kept ownership of the company with more then 180 stores in over 30 countries within the family members.
Posted by confused-born-indonesian at 12:41 AM
Monday, May 16, 2005
IKEA has its own trouble in China.
Artical taken from: http://www.franchiseek.com
The first trouble is price. IKEA household goods get prevailed in European market by the low price, but not in China. A small wooded table costs several hundred yuan and a paper lampshade costs about a hundred. IKEA is still only the choice of some middle-class people in China despite its lower and lower price year by year. Most of the visitors are to buy small household goods or just to experience the atmosphere. This is the reason why Chinese IKEA is small in sales and just regarded as a potential market.
IKEA's purchase volume in China accounts for 18% of the global amount and exceeds all the other countries. The transport and producing costs are decreasing. However, the price still can't beat that of domestic products in a short term. So it's not the low price that attracts Chinese consumers. Of course it would be better if the price were lower.
The second is design. The design is simple, delicate and special in IKEA. When the Beijing and Shanghai stores were opened, you could hear such voices like "Fantastic! I will buy all the furnishing things from IKEA for my new house", "Well, what's this? Is it used to contain flavor?" or "The corner of this cabinet is well-designed." etc. But now we can hear another voice: " I will only buy some small daily household goods in IKEA instead of furniture. There are dozens of and hundreds of same things in IKEA. There is nothing special if everyone else buys the same furniture." The products of IKEA are regarded as short-term consumer commodities in European market, but as durable commodities which can be used for a long term in China. Chinese consumer wants to buy special designs from IKEA and is willing to pay higher price for this special design. But with too many people purchasing the same thing, it's no more special.
The third is service. Chinese customers, who used to inquiring, usually can't find service staff in IKEA store. There are always some customers walking here and there to look for the promotional shoe shelf or vase. Moreover, customarily IKEA doesn't make delivery and do the installation. The service is cut down to reduce costs. IKEA's price in China is the lowest among its stores all over the world, but still considered to be higher than that of domestic products, in which delivery and installation fee is included.
These are the troubles, resulted from global market differences, faced by the perfect-pursuit IKEA. Among IKEA's global retail network, most stores are company-owned, which are mainly located in markets like Europe. Franchising format is applied in markets which are pole apart from European market. It's a wise policy since by franchising, it can explore an unfamiliar market rapidly and without many troubles.
However, IKEA owns the store by itself in China, the most strange and complicated market. During the years of business in China, IKEA "makes compromise" again and again by setting the price to the lowest point, extending the goods return time limit to 60 days and locating the Shanghai store on Xujiahui area, where the land is extremely expensive. We might say that if IKEA managed well its stores in China, then it would be able to get rid of all the disturbances created by regional differences and expanded globally further.
Posted by confused-born-indonesian at 2:29 AM
Although IKEA has its problems in Malaysia, there are bigger problems which they have to deal with in other Asian countries for example in China.
Posted by confused-born-indonesian at 2:20 AM
Thursday, May 12, 2005
Surviving in Malaysia
In Malaysia, there is only 1 IKEA outlet through out the whole nation. At first, Ikea was located in One Utama Shopping complex at Bandar Utama. Bandar Utama is an elite housing area. The outlet was approximately as big as IKEA Richmond. Currently IKEA Malaysia outlet has been relocated to the neighbouring shopping complex named IKANO, in Mutiara Damansara. Mutira Damansara is a new housing area which is as elite as Bandar Utama. Most of the population comes from the upper working class which consist of middle age and younger. IKEA contemporary designs may be appeling and attractive towards these age group. Not to forget, suitable for their modern houses.
One Utama Shopping Complex
IKANO shopping center
Mutiara Damansara
One of the showroom in Mutiara Damansara
Photo credits: www.yahoo.com
Posted by confused-born-indonesian at 5:53 AM
Malaysians Love Antique
With the same amount of money, malaysians are able to purchase decent antique furniture. Besides, its a reasonable price, antiques are more valuable compared to modern furniture. It is because of the detailed wood craft and organic designs
.
Therefore most of Malaysian home are furnished with antique furniture.
Below are some example of malaysian home.
Contemporary Ethnic furniture
For Other Malaysian Antique furniture visit :
www.teratai.com.my
www.terragarden.com.my
www.ethnicmoods.com.my
www.lightcraft.com.my
http://klyn.bizland.com/
Posted by confused-born-indonesian at 4:54 AM